While I was in California meeting with my soon to be magnet supplier, I was also able to meet with a small time one person manufacturer that I was made aware of from a friend who had some work done by him. I was looking to get some prototypes made of the Tac-Tote product with decent quality at a decent price. After some chatting with this very interesting fellow I was confident that even with his limited equipment and current state in life, he would be capable of making my prototypes and maybe even do some production if he proved himself. A few weeks later I received a couple of his prototypes in the mail and I was pretty happy with them. His work certainly would not meet my requirements for any production runs but as far as being able to use his work to pitch my product idea to a manufacturer I was in great shape. He and I worked together on a few more of my design requests which gave me a few more samples to work with and then I was on my way to find a more robust manufacturer.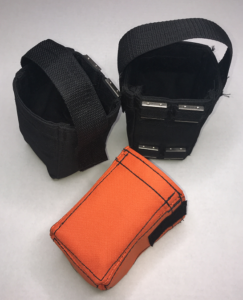 The battle to find a manufacturer in my local area that would be willing to work with a startup business was going to be a big challenge. Being able to locate one that would be willing to work with a startup that was pitching an unproven product design would make the mission an even larger challenge. I hit up Google searching with what I thought would be common terminology when searching for manufacturing facilities which produced a fairly substantial list of potential locations within the New England area. Having a list in hand, I began to make some phone calls and sent out a few emails. From those I was able to schedule a few face to face meetings with different companies and would spend the next few months travelling to and from them with nothing to show for it except my effort. I can say that most manufacturers that I met with greeted me with professionalism and respect. Some took a few minutes to warm up to me and usually that warmth was gained only after I was able to produce the few working samples that I was able to have made. I suspect that until they understood the level of my conviction I may have been lumped in with some past callers that were not as serious as I was who just wasted their time.
No. That's the answer that I was getting each at every location that I had travelled to. Those no's were never communicated in a negative manner but a no is still a no and I was taking a beating. I would drive home time after time with my mind racing in every direction. I focused on trying to think of other options that I may have been missing while at the same time hoping the next manufacturer's website spoke the truth. I say that because it seemed like all of their websites claimed how they would be willing to work in small quantities for small businesses. Well, I unfortunately was quickly discovering that that was not entirely true in most cases. I however was bound and determined to work through my list and if I had to I would generate an entirely new list if I needed to by expanding my search area for potential manufacturers.